Description
Portable Nano Ionic Facial Steamer Machine At Home
Do you still use old school way of using a vessel of hot water for facial steaming purposes, only to end up burning yourself?
Now we have one device and can help you achieve your beauty goal. Our Portable Nano Ionic Facial Steamer Machine At Home, which is a portable and durable electric steamer that can take your skincare needs effectively. 
Our Portable Nano Ionic Facial Steamer Machine At Home opens your pores, allow product to penetrate deeper, reveal smaller pores, One of the main benefits of using a facial steamer at home is that it increases blood circulation to the skin by raising the skin's internal temperature.
Skin cells are like fish and need water to live, so anytime you infuse water on to the skin, you are getting hydration, you can get all the benefits of a facial steamer while in the comfort of your home. Not only helps you save more money in the long run, also you can treat yourself to a facial at any time any where. Get your own Portable Nano Ionic Facial Steamer Machine At Home today.
Features:
Professional Facial Treatment:

Nano steam combined with ionic water particles are up to 10x more effective in penetrating skin.It can unblock your pores and improve your skin tone.That means you can enjoy professional facial SPA at home or even in travel!
10 Times Penetration than Regular Steam:
The normal steamer produce water vapor instead of nano ionic mist,can not penetrate deep into pores. While our facial steamer is up to to 10 times more effective at penetrating your skin, meaning you enhance your blood circulation by as much as 10 times.Please NOTE:DO NOT add more than 50ml of water!
Muti-functional:
Our face steamer facial steamer not only helps dry skin by adding moisture, opens pores to allow better penetration, but also can reduces acne and blackheads. And Warm Mist also can naturally deep cleansing to improve skin quality. Allows you to forget the stress of the day for a while
No Plastic Smell:
steamer for face designed with patented inner clean system,making sure the steam is 100% clean and reaches your skin in the purest and most effective condition.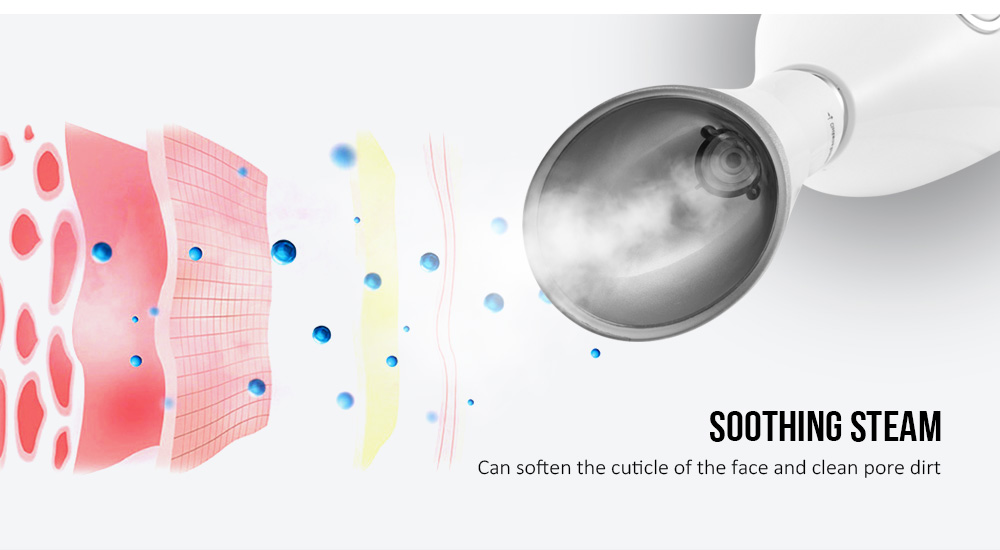 Use Instructions:
Add water with the measuring cup and do not exceed the marked maximum water level line

Plug the plug into the household power outlet, the steam will release after 20s since the switch turn on

To ensure the steam covers the entire face, keep the face away from the nozzle edge 20cm or more

After steaming, press the switch to turn off the power, and do your normal skin care, otherwise your face may feel dry
Warm Notice:
1. It maybe have some water when you receive it, but don't worry. The reason is that we have test the machine function before sending. Before using the steamer for the first time, please let it run with a tank of water for removing a new plastic smell.
2. Distilled water or purified water only, do not use lotion, milk, honey, or high viscosity essential oils.
3. keep your face 20cm away while steaming. Do not move the steamer freely during use.
4. It will turn off automatically when the water runs out. Cool the steamer down for 10 minutes after usage.
5. Normal skin is advised to use twice or three times a week, while sensitive skin is advised to use once a week, do not use over 8 mins, and only use one time for one day
Package Included:
1* Nano Ionic Facial Cleaner
1* Measuring Cup
1* User Manual