HOW DOES LED LIGHT THERAPY WORK?
Unlike some skin care treatments, LED light therapy often doesn't make your skin look worse before it becomes better. There's no direct skin contact with LED light treatments, and they don't cause burns or skin damage the way UV light can. Speaking on why LED light therapy has become such a popular skin care trend, Engelman shared that " [treatment] is virtually painless and, for some, the colors are very relaxing."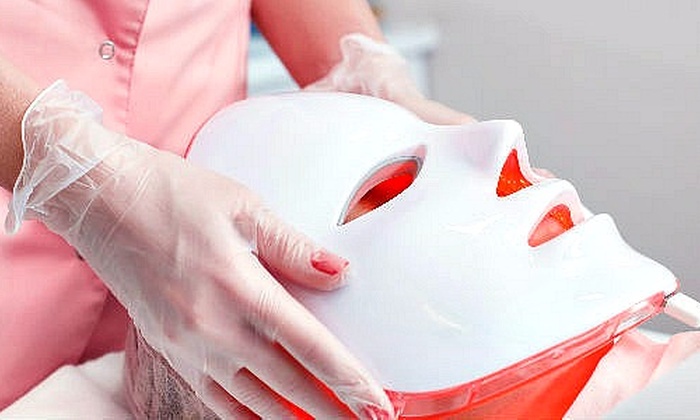 4 SKIN CARE BENEFITS OF LED LIGHT THERAPY
With LED light therapy, there isn't just one benefit. Depending on which color(s) of light you choose to use, there are a myriad of benefits your skin can receive. Interested in giving it a try? These are four positive effects you could see:
Benefit #1: Help Reduce the appearance of acne. Blue-light therapy is a popular way to help address acne. But when using this method to reduce the appearance of ance the American Academy of Dermatology (AAD) emphasizes that it's important to manage expectations. That means recognizing that LED light therapy typically won't clear acne and another acne treatment may need to be used as well. Additionally, the AAD notes that results vary from person to person, and often require a series of in-office appointments.
Benefit #2: Help minimize the look of fine lines and wrinkles. Studies show that red-light therapy may provide an anti-aging effect, but more definitive research is needed. A study from the National Center for Biotechnology Information (NCBI), found that red-light therapy could have potential for skin rejuvenation by helping to reduce fine lines, wrinkles, and rough texture, but more research is needed before the efficacy could be determined.
Benefit #3: Help fade the look of acne scars. In a study on low-level light therapy, the NCBI found that LED light therapy may have beneficial results on reducing the appearance of acne-related scars. 
Benefit #4: Prevent hyperpigmentation. The same NCBI study also reveals that using LED-based therapy prior to UV exposure may help reduce post inflammatory hyperpigmentation.
Amazing Results with LED Light Therapy 
for a Wide Range of Skin Conditions
Some of the skin conditions we treat at Colaz with this advanced therapy include:
Acne treatment

Anti-aging

Sun damaged skin

Skin rejuvenation

Rosacea

Rashes from ingrown hairs

Facial wounds

Facial wounds

Pain managemen
Light Therapy: Does it Cause Skin Cancer?
One of the most common questions regarding light therapy is related to its cancer risk. We all know that sunlight causes skin cancer. Since the treatment utilizes red and blue light that is similar to the light that the sun emits, does light therapy increase your risk of skin cancer too?
No, the treatment does not cause skin cancer. Light therapy systems do not generate the same wavelengths of light that cause skin cancer. The red and blue light emitted by these systems won't burn the skin. It helps if you have a good skincare routine to see the effects of the therapy.
Now, some systems only emit blue light. Blue light has many skin benefits but it doesn't reach the deep layers of the skin. As such, the results will not be as great as using a combination of red and blue light. Use intense pulse, short bursts, and multicolored light to shrink the pores and rebalance the skin's oil production.
Conclusion
There are many acne treatments out there but if you'd like to treat your skin condition without drugs, light therapy just might be the treatment that's right for you. Light therapy offers proven skin benefits especially for people suffering from mild to moderate acne breakouts.
Click LED LIGHT THERAPY to our light collection choosing the best one that suits you!